You might as well scroll down to the bottom of the page now if want to see some quality artwork on a t-shirt.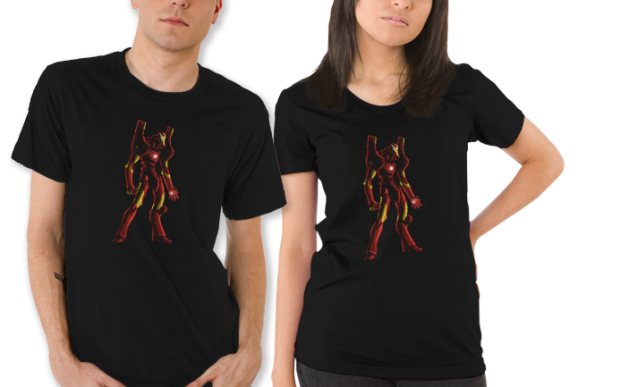 This Evangelion Iron Man mashup up tee does absolutely nothing for me.
Link: RIPT ($10)
6 Dollar put this scary devil tee on sale today. Wouldn't wear it. Probably give my daughter (and wife) nightmares.
Link: Tee Time at 6 Dollar Shirts ($6 incl. shipping)
Maybe I am just tired because this Skyrim shirt is not impressing me either.
Link: Over-encumbered T-Shirt at Shirt.Woot! ($12)
Yep, you guessed it. Not inspired by today's TeeFury offering either. I love Planet of the Apes but nah. This just doesn't work for me. Even if I were a Harry Potter fan I don't think it would work. It's too forced.
Link: TeeFury ($10)
This is another Harry Potter t-shirt but I like the simplicity.
Link: I'm a keeper T-Shirt at Busted Tees ($12)
OK. Maybe the others tees were just not that good because I am very impressed with this design. Huge print, coloring and despite the dark content it is definitely something I'd like to wear. Art by Markus Manson.
Link: Meanwhile T-Shirt at Design by Humans ($15)