Spoiler Alert.
I love this show. The first season was pretty good and would have been better if Scofield had been allowed to show some emotion. I realize that a lot of people prefer the first season but for me Prison Break became really exciting in the second season and through the third season. Thanks mostly to Theodore 'T-Bag' Bagwell who is easily the best character on the show and one of the most scary individuals to (dis)grace our TV screens. He is at his best when trying to charm others but his sinister charm is unfortunately wasted a little in Season 3.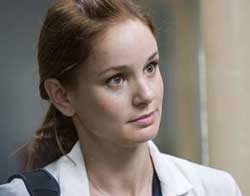 Anyway, back to the point. When Sarah was killed and had her head put in a box to make a grizzly point it was shocking. It was very shocking but not as shocking as her coming back from the dead one season later. I really don't see why they have to bring her back. For one, it doesn't make sense. Lincoln saw her head in the box! He's not going to mistake it for someone else. And even though they claim he only looked at it for a second, I think in reality, he would have double checked. Also, where are the bad guys going to find a Sarah lookalike and it had to be a lookalike because they are professionals. They are not going to risk Lincoln checking the head more carefully and there is no way that they could guess he wouldn't.

Another argument is that she was decapitated in the same room as LJ, Lincolns son. And while he claimed to have shut his eyes while it happened, the bad guys had no way of knowing he would so how are they going to pull off a fake decapitation in the same room.
The one great thing about this show though, is the way that it plays with our emotions and makes us sympathize with bad men such as Alex (another great performance) and Bellick. I think if they had to bring back a character though it should have been Haywire. He brought a lot of laugh out loud moments. Sarah is just a love interest.