Captain KYSO is an India-based t-shirt store that has been releasing a steady flow of great t-shirts since March 2012. I did wonder whether the store would last or not because t-shirt stores come and go pretty quickly and Captain KYSO uses popular t-shirt artists from around the world and released tees on an almost daily basis which can't be easily sustained. But it has endured and continues to release great t-shirts and it looks like there is no stopping them.
I ordered a shirt a while ago. If you purchase their tees on the first day, they cost just $12 rather than the usual $15. And that includes international shipping. India to Japan. That's a pretty good deal. It took about a week to arrive.
Captain KYSO T-Shirt Review
The t-shirt I ordered was Sombrero: The Best Contraceptive by one of my favorite artists, Wenceslao Almazan AKA Walmazan. Funny concept with nice artwork.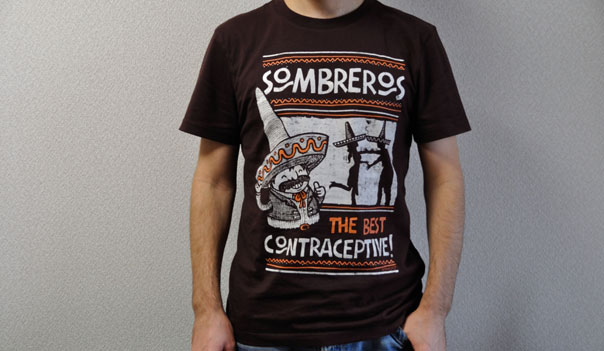 The shirt is brown, 100% cotton and made in India. It's soft but strong and has a very nice cut. I ordered a medium and it has a similar fit to American Apparel but a little shorter. I like that. On the label it says that India Medium is the equivalent of US/UK Small. I wouldn't have said so. Perhaps they are allowing for shrinkage. I washed the tee twice but didn't notice any.
Despite being light ink on a dark tee, it is very soft. Basically I have nothing negative to say about the shirt. Nice job Captain KYSO.
Branding
On the t-shirt itself there is very subtle branding on the bottom right hand corner of the design. In a very fine almost child-like font the text "captainkyso.com" can be found integrated into the design. Very subtle and I like subtle when it comes to branding. Also there is a printed label inside the back collar with care details, sizing information and the Captain KYSO logo. Screenprinted too.
Extras
I guess these could also be considered branding but as they are not on the actual shirt I talk about them separately. The t-shirt came in a custom mailer with clear branding. Looks good. And there was a hangtag on the tee that was very professional too.
Website
The website is fun and easy to navigate. I do think they should rename the Gallery section though as some people might not realize that it's where the store is and that there are tons of awesome t-shirts that are still for sale. Because they have a  new shirt almost every day, I imagine that some people will think that it is just another shirt-a-day site like TeeFury or RIPT.
Wrap-Up
If all their tees are the same quality as the one I have received, and I have no reason to believe they aren't, then they have a great product. They have top-class designs from popular t-shirt designers. Closing in on 150 shirts in less than a year, you certainly can't complain about their selection. $15 including shipping almost anywhere in the world is about as good as it gets. Captain KYSO is about as good as it gets for a t-shirt store and I am looking forward to seeing what they do in 2013. Perhaps they will get around to launching the t-shirt design contest that has had the coming soon banner since they site was launched.
Link: Captain KYSO